Forest scene
What do you need:
Wooden laths
Old branches
Wooden animals
Glue
Saw
© Copyright crafts.knutselidee.eu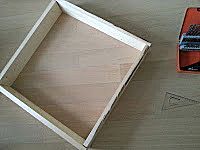 Do you want to create a nice forest scene with trees and animals then please continue reading.
Itís so nice, you really need to try this some time.
First take a wooden slath from the DIY. This slath had a thickness of 2 centimeters and we sawed 4 boards: 2 of 50 centimers and 2 of 54 centimers long. By doing so the frame becomes 54 by 54 centimers. Every other size is off course possible too and if you have an existing frame you can use that one instead.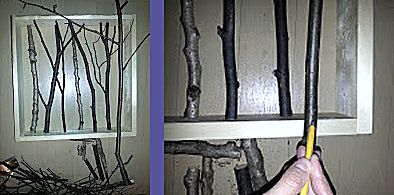 Scrub the sharpness from all edges using sand paper in order to avoid getting splinters. Next you screw the boards together in order to obtain a frame. Search for some nice branches in the forrest. Once youíre back home, measure the branches in such a way that you know where to cut them in order for them to suit the frame. If you make sure they are stuck well then you do not need any glue. But you can always use glue just to be safe.
Place the branches in such a way that a nice forest comes alive. With divergent branches at the top and, at the bottom, straight pieces that are the stems. Finally add 2 wooden deers and ...finished!
You can use other forest species too for this craftswork.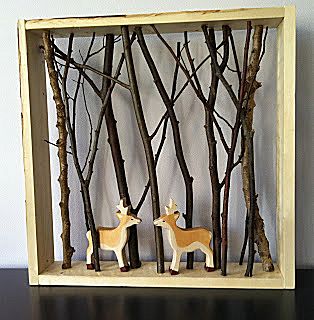 With approval adopted from
Houtspel
Hint
Use pieces of wood that already fell from the trees and have dried well. Otherwise the wood will shrink and after a few weeks it will no longer fit nicely in the frame
© Knutselwerkje van crafts.knutselidee.eu