Colorful bike
What do you need:
© Copyright crafts.knutselidee.eu

This idea is send by: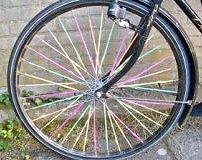 Do you want a more colorful bike?Then this will be an easy idea for you.You can easily decorate the spokes of the bicycle's wheel. With this crafts hint you are able to make your bike more colorful.
Start with cutting the straws along their length. You can then wrap the straws around the spokes. Accordingly you can wrap a lot of straws, both perking up your front and back wheel! You don't need to do both wheels, but you can. The effect is very nice.
It goes without saying that you better use colorful straws. Change the colors frequently to become a nice optical effect. Make something nice from it!
Hint
You can wrap the straws alternately: one spoke wrapped, the next one not etc. etc.
© Knutselwerkje van crafts.knutselidee.eu