Decorating a stone
What do you need:
A nice looking pebble.
A picture of e.g. a flower
Scissors
Glue
Coloring material (paint, pencils,...)
Varnish
© Copyright crafts.knutselidee.eu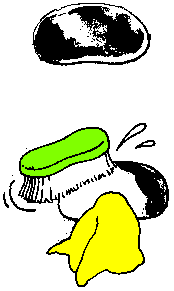 This is a nice crafts work for which a nice stone or pebble can be used. Especially a stone you have found during a holiday can be of good us here. Instead of our suggested flower you an also use something you encountered during your holidays to decorate the stone. The decorated stone can be a nice present for your fatherís desk.
We start with cleaning the stone. Pebbles are often clean already but if you wash them with soap and wipe well afterwards, they only become prettier.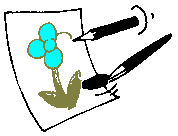 Draw a flower on a piece of paper. The paper you use should be as thin as possible. This will give the best result. Instead of drawing something yourself you can also cut out some nice things from a magazine. Maybe a picture of your favorite band!
Once cut, glue the flower or picture on the stone. Put the stone on a flat surface, the side that is up is the one you glue the picture on.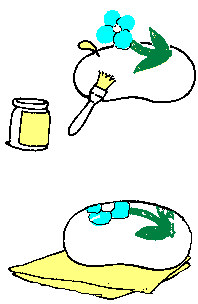 Once the glue has dried you can obtain a better result by spraying varnish over the stone. Be careful because the varnish can be poisonous so best to ask mum or dad to give you a hand. You now have a beautiful stone which you can use to put on a pile of paper or just to lay down.
Hint
Instead of a pebble you can use a piece of wood or a candle.
© Knutselwerkje van crafts.knutselidee.eu