Felted Animals
What do you need:
Felt
Pattern
Pencil
Needle and thread
Scissors
© Copyright crafts.knutselidee.eu

This idea is send by:
From felt you can make animals (or other figures). And itís not that difficult to do so! As long as you have a simple side view of a figure.
Draw a silhouet of an animal on a paper or print a pattern you have found. Cut out the animal and with this template you can outline the figure on the felt.
Cut out the figure twice from the felt and sew the edges together using needle and thread. Leave a small piece open to fill up the figure with leftovers wool, felt or cotton wool. Once the animal is nicely stuffed then sew together the final piece. Potentially you can cut out the ears (or other parts such as tail, rhinoceros horn,fin) separately from the felt and sew it to the animal. Eyes and mouth can be drawn or also sewn to the animal.
On the photo you see 3 felted animals that have been made by an eight year old girl.
You can just put the animals up like that or (also nice) attach them to a key ring or make a nice mobile.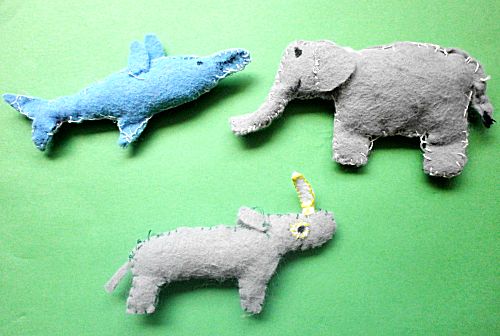 If you have multiple colors then you can use them as main color for an animal.
With blue you think for example of an elephant, rhinoceros, hippo, dolphin, whale
Green: frog, chameleon
Pink: flamingo, pink panther
Yellow: lion, giraffe (spots can be drawn upon), chick
Orange: cougar, red panda
Orange with white: clownfish (Nemo), spotted cat
White: sheep, cat, dog, ice bear, snow owl
Offcourse there are a lot of other figures possible.
Hint
Make a complete jungle of it!
© Knutselwerkje van crafts.knutselidee.eu