Butterfly made from clothespins
What do you need:
© Copyright crafts.knutselidee.eu

This idea is send by:
Making a butterfly clip out of clothespins. Is very easy.
All you need is one clothespin, which you glue together with both straight ends on one another. This will be the body. Two small beats become the eyes and are glued on with strong glue. The wings have to be cut out of preferably some strong material, so a fabric will not do.
Make a template you can outline. Now glue the body on to the wings.You can decorate the wings with little rounds and other little figures.
Be creative.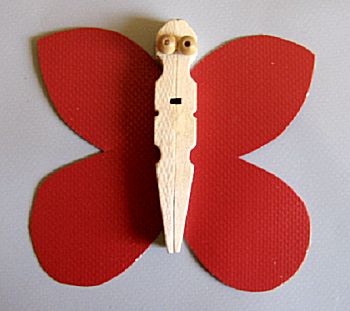 Hint
Decorating the wings of course can also be done with colour markers. Itís nice to use mirrored colouring.
© Knutselwerkje van crafts.knutselidee.eu