Bird rack
What do you need:
Two wooden beams 15 mm diameter.
Thin chicken wire.
8 Nails.
Hammer.
Bread or peanuts.
© Copyright crafts.knutselidee.eu

This idea is send by: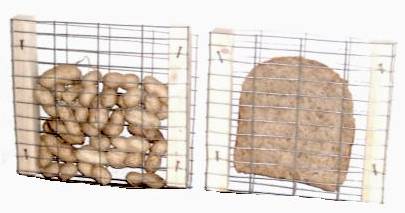 Start sawing two bars of about 10 cm long and cut off the chicken wire at about 10 x 21 cm. Attach the chicken wire to the upper part using nails. If you have one available, you could use a stapler for wood instead of nails. Fold the chicken wire around the bars twice and nail them on the bars in the same way as before. Ensure yourself that the chicken wire is wrapped all around, closing all sides.
Put bread or peanuts inside the chicken wire, and find a nice spot in the garden to put your bird rack.
You now have a nice place for the birds to eat.
Hint
Make sure the bird rack is high above ground level, so cats can not reach the birds when they are eating.
© Knutselwerkje van crafts.knutselidee.eu