Clothes line birth card
What do you need:
Card
Printed pattern
Picker pin
More paper in soft colors
Thick two-sided tape
Scissors
'Congratulations' sticker
© Copyright crafts.knutselidee.eu

You can create a nice card yourself for a birth. In this case it is a 3D picker card. Here is the pattern for the picker card.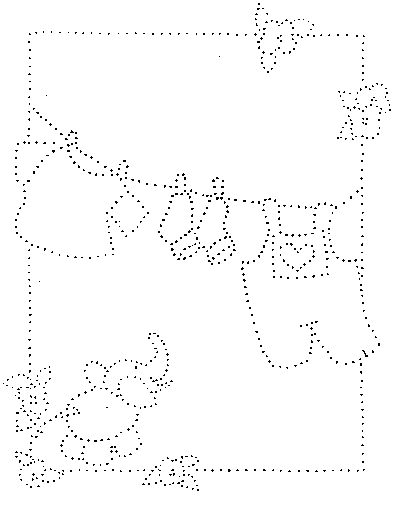 Print the pattern. It should have the dimension of a card, so you might have to enlarge or reduce the pattern before printing it. If you click on the pattern it will open up in a separate window for easy printing.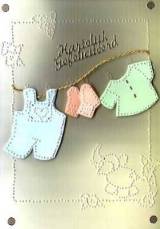 Put the pattern on the backside of the card and attach it using a paper clip or tape. Pick all the wholes of the pattern.
Once done, undo the pattern from the card and put it on another paper. Pick the clothes on the other paper. Cut out the clothes using scissors leaving a small edge around the clothes (see example nearby).
Fix the clothes with the double sided tape on the place where the clothes are picked on the card. The clothes now lay on top of the card.
Add a nice 'Congratulations' sticker.
Hint
Write a nice poem on the card prior to sending it.
Example:


Buying clothes,
Washing clothes,
Hanging clothes,
Ironing clothes,
Folding clothes,
We now know who they're for.

© Knutselwerkje van crafts.knutselidee.eu