Advent Christmas Tree 1
What do you need:
Green paper (large)
Red paper (large)
White drawing paper
Pencil, markers
Glue
Garlands, sparkels and other decorating material
Scissors
© Copyright crafts.knutselidee.eu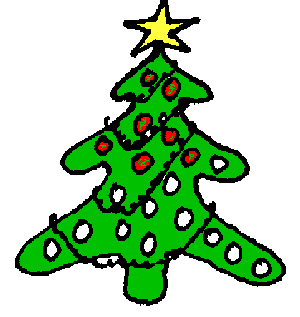 An Advent calendar isnít just a calendar, but a genuine Christmas calendar. This calendar only has 25 days and counting starts as of December 1st. This calendar counts down the days until Christmas and each day you can open a box. I am sure you understand that it is exciting to see whatís in the box. It is fun to create such a calendar for somebody else.
Draw a Christmas tree along the entire length and width of the green paper and cut it out using scissors. Cut out the same shape from the red paper. Draw 25 Christmas balls on the green tree and prick them half by half so that you can still fold them open. Apply in nice character the numbers 1 to 25 onto the balls. Glue the red and green trees exactly together. Draw 25 small, funny sketches on the drawing paper and glue them in each circle onto the red paper. Now you can open the green circles one by one revealing another sketch. Now you can decorate the tree using little garlands, glitters etc.
Hint
Instead of buttons, you can also create 25 small presents with a number and hang them on the tree.
© Knutselwerkje van crafts.knutselidee.eu