Reindeer (Rudolph) mobile
What do you need:
Cardboard
Paint
Paint brush
Thread
Scissors
© Copyright crafts.knutselidee.eu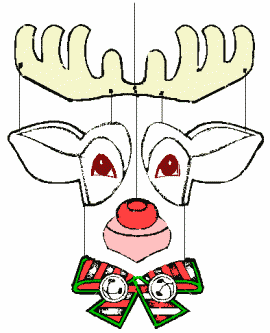 You can make a nice reindeer mobile using card board and paint.
Look very well at the figure to verify how it should look like and how you should be creating it. You can adapt the size of the accessories yourself. You can create the antlers using an A4 sized sheet of paper. Create the accessories and paint them in a nice color.
You should be painting both sides because that is nice when the mobile is hanging in front of the window or in a room. Also create 2 ears with eyes, a nose with mouth and a bow. Also paint everything on both sides. Make little holes in each of the accessories. This is where the threads will go. On the picture you can easily spot where the threads should be going. Attach all accessories together using threads. Your nice Christmas mobile is then ready and to be seen very well from both sides.
Hint
You can also make a Santa mobile!
© Knutselwerkje van crafts.knutselidee.eu