Woolly Christmas ball
What do you need:
Piece of card board
Scissors
Wool
Pencil
© Copyright crafts.knutselidee.eu

This idea is send by: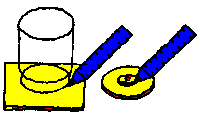 Christmas balls for in the Christmas tree can be made from wool. Nicest is if you can use wool having shiny highlights. Hairy and shining, that really makes the Christmas ball.
Take 2 pieces of cardboard and draw a circle e.g. using a jam jar. Cut out the circle and draw another circle in the middle. Cut this one out too in order to obtain 2 rings.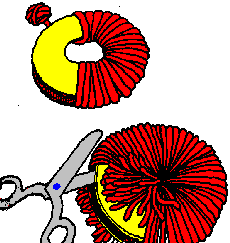 Wrap the wool around these cardboard circles. Do this as much as possible hence do not stop too soon. Then take a pair of scissors and cut the wool in between the 2 circles. Take 10 cm of wool and knot it firmly between the circles. You can then remove the circles and evenly spread the threads. Removing the cardboard circles goes easy if you cut it so you can fold it off. Maybe you have to cut some threads here and there and your ball is ready.
The thread used to tie down the ball threads can be used to hang up the ball in the Christmas tree.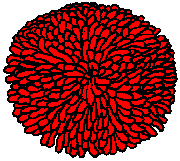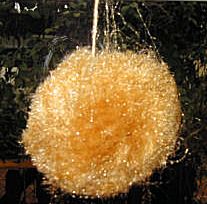 Hint
To fill up your Christmas tree you have to make multiple balls. You can also make a variety of sizes.
© Knutselwerkje van crafts.knutselidee.eu