Mailbox
What do you need:
© Copyright crafts.knutselidee.eu

This idea is send by: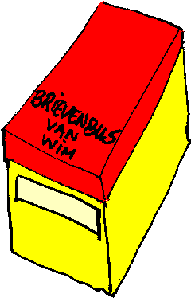 Take a shoebox with lid and cut out on one of the short ends a rectangle. This will be the mail slide. Now close the lid and paint the box in beautiful colours.
On top you write: "(your name)ís mailbox"
Every time you check your mail just open the lid.
Hint
If your friends get a mailbox too, you can deliver each other mail
© Knutselwerkje van crafts.knutselidee.eu