Birdhouse
What do you need:
Empty box
Paper
Scissors
Glue
Pieces of styrofoam
Needle
Thread
© Copyright crafts.knutselidee.eu

This idea is send by: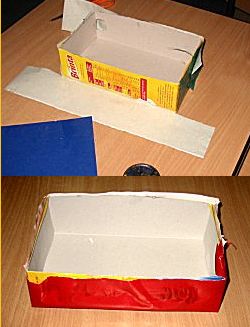 During the winter time it is nice to have a birdhouse outside. For decoration you can create one to hang on the inside too.
Take a box and cut out the front (see the picture beside). Glue the chintz paper around the box in order for the sides and bottom to have a nice color. Take a piece of craft paper having a white or grey side. Fold double and on the edges, fold again. This is the roof and you can staple it to the long edges of the box.
Using the styrofoam, you can string a peanut cord. This is to hang underneath the birdhouse.
You can further decorate the birdhouse using little birds which you get from a coloring sheet. Color them, cut them out and glue them nicely on the birdhouse.
Put a long thread through the roof and hang up the birdhouse.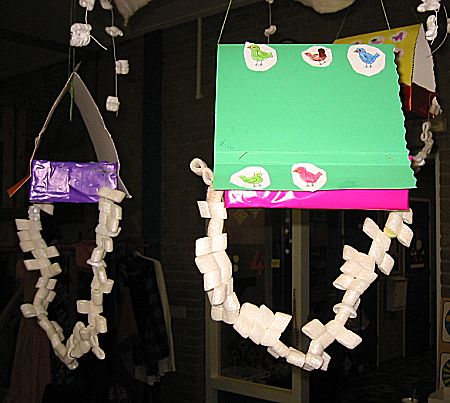 Hint
You can also create a snow layer on the roof using cotton wool
© Knutselwerkje van crafts.knutselidee.eu