Chain of clothespins
What do you need:
Old clothespins
Beads
Thread
Pliers
© Copyright crafts.knutselidee.eu

This idea is send by: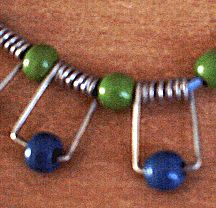 You can create a nice chain from the iron parts of clothespins as is shown on the pictures.
Take 5 clothespins and remove the iron part. Keep the wooden parts as you can use them for other craftworks.
Fix a bead on the 2 loose parts that used to be fixed to the pin. First you put one part in the bead, then the other. Sometimes the parts can be stiff and you might need the pliers to help in bending them. Once both parts are in the bead, put the bead nicely in the middle.
Take a piece of thread, colored one is nice, and start to string! First a bead, then a clothespin part with bead, another bead and so on and so on.
End the whole with a bead. The chain is now ready and can be worn. Mothers like receiving this necklace.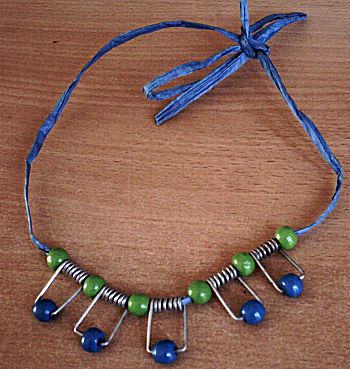 Hint
If you know your motherís color preference in her clothing, then you can adapt the color of the beads. It will then suit nicely.
© Knutselwerkje van crafts.knutselidee.eu