Gluing napkins
What do you need:
Piece of cardboard
Napking with eastermotive
Glue
Straw
scissors
© Copyright crafts.knutselidee.eu

This idea is send by: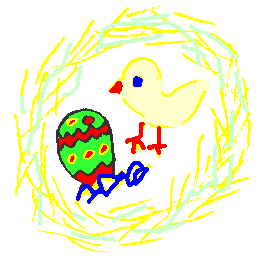 To make decorations of napkins is often a bit hard for young children, but this is something all can make.You cut one quarter of the napkin, so as to have every picture once, and glue them to the cardboard. Put the glue on the cardboard and not on the napkin! There should be about 5cm cardboard left around the napkin. Now the children can go ahead. Put more than enough glue on the frame and put the straw on top of it. You can do it neatly but also a bit wild will look great to finish the frame. Just put on a small peg and you made just another marvellous piece of art.
Hint
It is also nice to attach some decorated eggs at the bottom.
© Knutselwerkje van crafts.knutselidee.eu