Tangram
What do you need:
Cardboard
Knife or scissors
Pencil
Ruler
© Copyright crafts.knutselidee.eu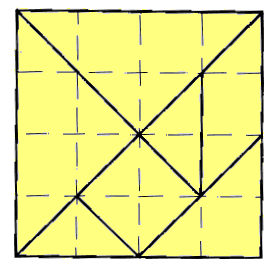 Tangram is a puzzle game. It is easy to create and there are a lot of figures you can lay. The first problem is to make a square from the seven pieces. You will have this example immediately as we will be creating the puzzle from a square piece of cardboard. Besides that you lay a variety of other figures. There is only one game rule and that is that you are allowed to use each piece only once. Not more, not less.
Take a square piece of cardboard measuring 16 x 16 centimeters. Divide the cardboard in 16 pieces as is shown on the figure. Cut out the 7 parts. Actually you are now ready but you can finish the parts by painting them.
Below you can find some other shapes you can lay down with the tangram pieces.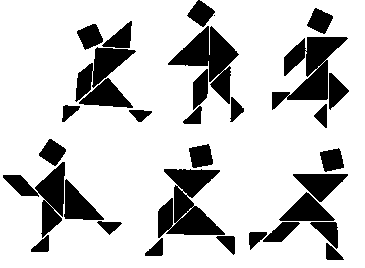 Hint
There are a lot more figures to make. Can you invent some yourself?
© Knutselwerkje van crafts.knutselidee.eu