Pencil figure
What do you need:
© Copyright crafts.knutselidee.eu

This idea is send by: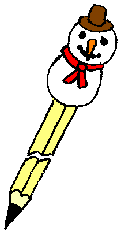 When your father often uses a pencil, you can make him a more special one by decorating it with clay.
Take the clay and create a nice figure out of it and attach to the pencil at the top. Make sure it is not too big, for than it wonít be nice writing with it.

The pencil can also be put in a penholder to make it a great present.

Hint
If your fatherís a football or soccer freak, you can attach a nice ball on top of a pencil.
© Knutselwerkje van crafts.knutselidee.eu