A nice head
What do you need:
A strong lamp
Big sheet of white paper
Crayon
Black sheet of paper
Glue
Frame or cardboard
© Copyright crafts.knutselidee.eu

This idea is send by:

Attach the white paper sheet against e.g. the door using tape. Put the lamp down and go and sit between the lamp and the paper sheet. Look at the side so that your silhouet is well visible on the sheet. Ask somebody to trace the shadow (your silhouet) on the paper. You can potentially reduce the size of the drawing using a copier. That usually makes the picture more focused.
Put the drawing on the black sheet and cut it out (twofold).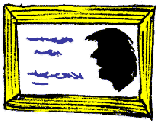 Now you have a black paper silhouet. You can glue this silhouet en make a nice frame with it.
You can also write something nice to your dad.
Hint
If you have siblings you can also make their silhouets and frame them together.
© Knutselwerkje van crafts.knutselidee.eu