Key rack
What do you need:
Wooden board.
Screws.
Small hooks.
Small nails.
© Copyright crafts.knutselidee.eu

This idea is send by: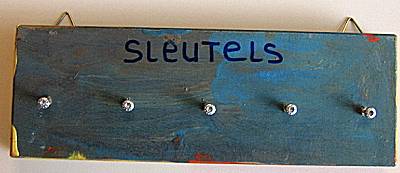 A nice key rack which is very simple to make. Take a wooden board of about 1.5 cm thick, about 20 cm long and 10 cm high. Paint the shelf, then varnish and put in the screws. Put hooks on the back to be able to attach the key rack onto something. A nice simple gift with probably very original colors.
Hint
Of course, you can also decorate the key rack with fun figurines.
© Knutselwerkje van crafts.knutselidee.eu