Suitcase full of memories
What do you need:
Cardboard
Pictures
Glue
Scissors
© Copyright crafts.knutselidee.eu

This idea is send by: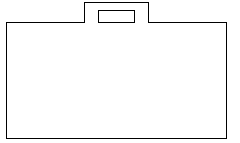 You can create a nice memory from your holidays by glueing pictures on a suitcase.
Take a big piece of cardboard and cut out the shape of a suitcase twice. An example is shown here. Then glue some pictures of the nice destinations you went to. You can also use pictures from a holiday brochure.
Once the suitcase is decorated on both sides, you can staple them together leaving the top side open allowing you to put some larger things you brought from your holidays.
This craft work is very suitable to give as a present to the teacher at the end of the school year.
That is just before the holidays. The pictures on the suitcase can be of any holiday, they donít need to relate to any of your own holidays. When attaching the 2 parts you can then put some chocolate or candies in the suitcase. This will bring your teacher in a holiday mood and you give an original present.
Hint
If you like this as a present for your teacher then you can glue some memories from the past school year on the suitcase and a nice picture of yourself.
© Knutselwerkje van crafts.knutselidee.eu