Making binoculars
What do you need:
Toilet paper rolls.
Cardboard box
Tape
Small rope
Glue
Coloured paper
© Copyright crafts.knutselidee.eu

This idea is send by: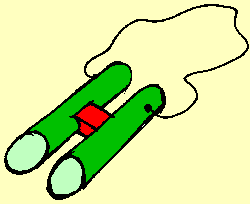 With two toilet paper rolls you can make nice binoculars.
Take two rolls and cover them in coloured paper. Then tape them together while holding the cardboard box between them, so the roles will be somewhat apart.
Now you can also decorate the box and the rest of the toilet paper rolls with coloured paper. Now you only need to attach a rope to the end and your binoculars are finished.
What do you see so clearly now?
Here a video with explanation in dutch
Hint
You can finish up the binoculars further by drawing a button for focussing.
© Knutselwerkje van crafts.knutselidee.eu