Strawberry invitations
What do you need:
Paper, red and green
Scissors
Glue
Pencils
© Copyright crafts.knutselidee.eu


You can make very nice invitations looking like strawberries when you would for example hold a strawberry banquet party.
Take a piece of red paper of about 20 by 9 cm. Fold it in half to make it a card of 10 by 9 cm. Then you can draw the form of a strawberry on it while paying attention to keep the folded side of the card on top and you do not have to cut this site. Do cut the belly of the strawberry out of the two papers the same time.

Second, you cut the form of a leaf out, like shown alongside, of the green paper. Glue this on the strawberry while paying attention that the upper green leafs still protrude the strawberry.
Only part left is to draw a couple of V forms on the strawberry to make it look delicious. The card is now finished and you can use the inside to write your invitation.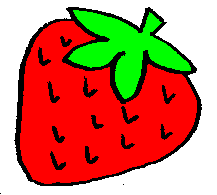 Hint
© Knutselwerkje van crafts.knutselidee.eu