Pirates treat
What do you need:
Large box.
colored paper.
Egg cake.
Drop Lace roles
Sweets.
Foil.
© Copyright crafts.knutselidee.eu

This idea is send by: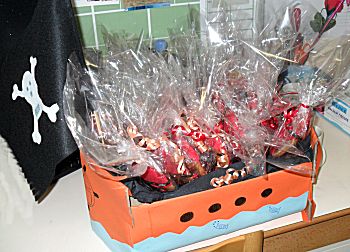 A tough boy, can make a treat from pirate faces. But a though girl can of course also. The faces are mainly made ??of a egg cake and a coiled liquorice lace.
The licorice lace is his eyepatch. A piece of red licorice his mouth and a little sweet is his only working eye.
A red piece of paper, the head shawl of the pirate. Each face can be tightly wrapped in foil.
For transportation and handing out take a big box, also depending on how many treats you have to hand out. The side decorate with water and portholes. On the back you can make a big pirate flag and fixate. If the boat is ready then the pirate faces will all be put in the boat.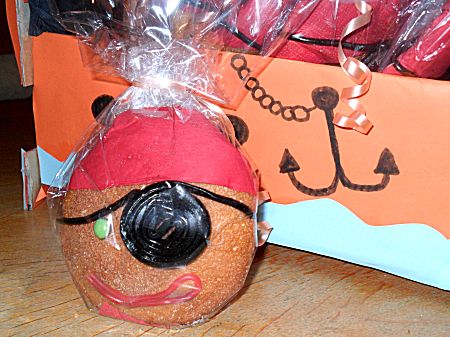 Hint
Use icing candy as glue on the egg cake.
© Knutselwerkje van crafts.knutselidee.eu