Imprinting an invitation card
What do you need:
Potatoes
Knife
Paint
Paint brush
Card board
© Copyright crafts.knutselidee.eu



Cut a potato in two. Draw a figure on the flat surface and carefully carve out a layer around it.
Start with a simple figure or else the result might be disappointing. You can also carve out the central part of the potato.
You will then obtain a round stamp with a paint less figure in the centre. Apply the paint on the potato using a brush. Practice on a draft paper. It can be hard to do in the beginning as you can easily slide away.
After practicing you can stamp on a postcard.
And make invitation cards!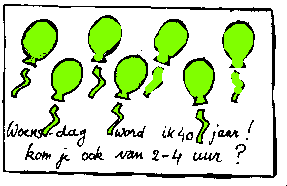 Hint
You can also stamp on other objects using these stamps.
© Knutselwerkje van crafts.knutselidee.eu